But just as you excel in everything - in faith, in speech, in knowledge, in complete earnestness and in your love for us - see that you also excel in this grace of giving.

—2 Corinthians 8:7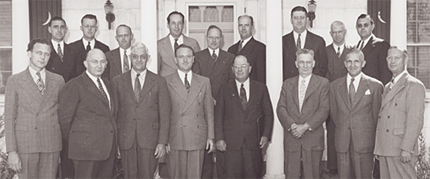 1947 — First Bethel College Board of Trustees
Front row (l-r):
Quinton J. Everest, Seth A. Rohrer, Warren E. Manges, Mark J. Burgess, R.P. Ditmer, James S. Wood, Gordon Reichard, Milo Miller.
Back row (l-r):
John E. Tuckey, George Murphy, Karl P. Pannabecker, D. Paul Huffman, David Wells, Harold E. Bowman, Kenneth E. Geiger, Edgar Freed, Forrest L. Huffman.
Our founding story
The history of Bethel College is a testament of godly vision coupled with love for young people and personal sacrifice. More than 120 years ago, in 1893, Mennonite Brethren in Christ founder, Daniel Brenneman, called for an institute to train clergy and lay leaders. For the next several decades J.A. Huffman pressed the case for a Christ-centered liberal arts college, even suggesting the name Bethel, meaning "house of God."
It wasn't until 1944, under the leadership of Q.J. Everest, Seth Rohrer and Warren Manges, that the vision of Brenneman and Huffman—inspired by God—was realized through formal approval of the church. In 1946 land was purchased in Mishawaka, Ind., and 27-year-old Woodrow Goodman was appointed as the first president—at that time the youngest college president in the United States.
Bethel College opened in the fall of 1947 with 94 students. Since that time many individuals have rallied around the cause of Christian higher education, investing their lives and resources in ministry to young people. The establishment of the Founders Society by the Bethel College Board of Trustees in 2004, invites like-minded women and men to invest themselves in the continued expansion and strengthening of Bethel College.